We understand that funeral home price lists can be hard to compare and difficult to understand. We would be pleased to offer you a personalized, no obligation quote, assist you in your comparisons, or answer any questions that you may have.
For a copy of our complete price list click here: Haskett Funeral Home Price List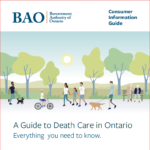 We encourage you to review to review the Consumer Information Guide created by the Bereavement Authority of Ontario. We believe that informed decisions are good decisions.